I've lost count of how many times I've been irritated by ice cream truck music. Not sure if it's the loudness of it, the tune they're using, or the pitch, but something about it makes me instantly irritable and anxious.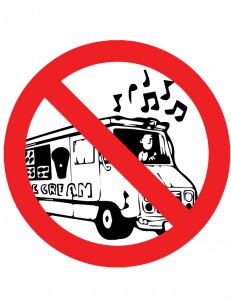 So I was thinking, would it be possible to broadcast BACK a reverse sound wave and cancel it out?
I don't know too much about the technicalities of it but I imagine I'd need to get my hand on the recordings they use, make a reverse copy, and have some sort of real-time music analysis (like Shazam).
then play it back. preferably at a higher dB.
How are these creeps still in business anyway? There's a publix 1 block to the east and a sweet bay 1 block to the west.
Oh, AND IT'S WINTER. GO AWAY.
D:<
But for real, anyone know if the reverse ice cream truck annoyance ray is possible?
We can build it with a
raspberry pi